About US
C&K Testing is a leading testing company to render you specialised solutions concerning green and sustainable development of products. Established in 2008, we've helped thousands of customers to minimise the risks of their products to human health and the environment through our testing services.
Our company is a member of CIRS which is a leading product safety management consulting firm. With our offices in Ireland and the United States as well as our laboratory in China, a global network of testing facilities enables you to meet all the relevant regulatory requirements across different markets more cost-efficiently.
Combining widely global recognition and extensive local experience, staffed by knowledgeable experts, C&K Testing will help you to gain a competitive advantage in the global marketplace by ensuring product safety and quality, removing trade barriers and optimising manufacturing procedures.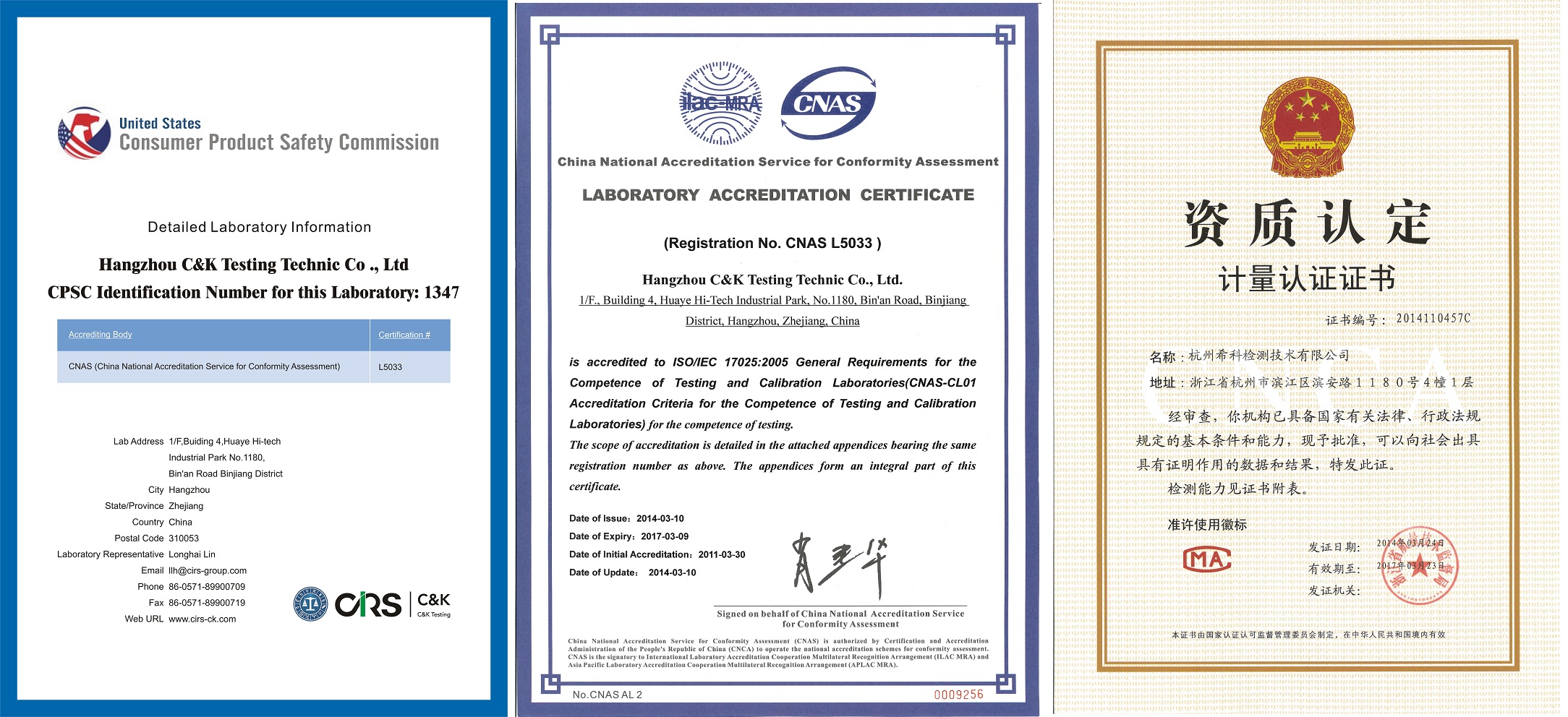 Our Testing Services: food and food-related products, cosmetics, environment, consumer products, industrial goods and chemicals, etc.
Our Mission: we are devoted to forging the future relying on green technology.
Our Vision:
we aspire to provide green solutions to safety and health issues by experimental data.
The World's Leading Laboratory
C&K Testing laboratory has built a management system according to ISO/IEC 17025 and has been keeping an effective operation. The lab is well equipped with Agilent gas chromatograph mass spectrometer (GC-MS), liquid chromatography mass spectrometry (LC-MS), ultraviolet / infrared spectrophotometer, atomic absorption spectrometer, platinum ellman inductively coupled plasma atomic emission spectrometry (ICP), X-ray energy dispersive spectrometer (EDX), Anton Paar microwave digestion instrument and so on.
Collaboration with Associations and Institutes
C&K Testing has close collaboration with many renowned domestic and international associations and institutes such as China Automotive Technology & Research Center (CATARC), China Chamber of Commerce for Import and Export of machinery and Electronic Products (CCCME), China Writing Instrument Association, China Chemical Fibers Association, China Toys Association, Jiangsu Chamber of Commerce for Import and Export Firms, Rubber and Plastics Research Association (RAPRA), Harlan Laboratories and so on.