On September 26, 2017, food contact material experts committee of China National Food Industry Association released guidance on manufacture of identification label of food contact materials and articles in the kind of household appliances, which aims to provide related enterprises with reliable guidance in compliance with labeling requirement.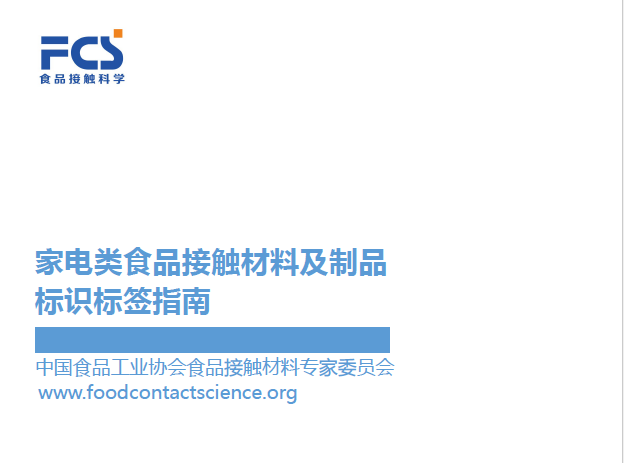 With GB 4806.1-2016 National Food Safety Standard: General Safety Requirements on Food Contact Materials and Articles coming soon, related enterprises are required to manufacture compliant labeling. The requirements on labeling have been indicated in chapter VII of GB 4806.1. While the household appliances of food contact articles are made up of kinds of food contact materials, making the identification label administration more complicated.
Since there are various kinds of components and materials in household appliances of food contact articles, enterprises are not mandatory to mark identification label information on every component. It is available that providing identification label information by packaging and product itself, specification, packaging or its print. Of course, identification information should preferentially mark on the product itself or its label, locating at the full position of the Minimum sales unit(SKU) or its packaging. Separate sales of parts and accessories of household appliances also need to indicate identification labels while supporting sales usually indicate in a specification, without repeated labeling.
Enterprises should mark the spoon and chopsticks sign, or indicate "food contact use"," food packaging use" and other similar wording or warning information, in the condition of unable to display identification label information. Also, enterprises have the initiative to determine their content wording, the forms of labeling and display vector.
The authority has been regulated the name of every food contact materials, which requires enterprises and industrial stakeholders comply with the regulation, avoiding consumer misunderstanding and confusion of names.
For the materials with complex names, such as plastics, silicone rubber, and coatings, enterprises could only indicate the common name on the product or its print and label, while the specific Chinese name can be listed in the attachment of product, such as specifications and inserts. Unlike the other materials, food contact metal substrate shall be clearly marked with its materials type and material composition or Chinese general metal grades, numbers. Such as "stainless steel 06Cr19Ni10" or "stainless steel S30408". Enterprises are also permitted to add aboard general metal grades, such as "stainless steel 06Cr19Ni10(SUS304)"
For the names and address of the producers or distributors, an enterprise or its subsidiary company that undertakes legal liability independently according to law shall mark their respective names and address. Those who manufacture by a commission and are not responsible for the sale shall mark clearly the entrusting party and their own address and names. Imported food contact material shall mark brands name, who registered in China, agents, importers or distributors and names and address of the foreign producer.
For the same item, a number of models of home appliance products, it is available that "one kind of production, one labeling template".
C&K Testing reminds, for imported food contact articles, enterprises shall standardize their label use and pay attention to the effective date of GB 4806.1-2016.
|Further Information:
guidance on manufacture of identification label of food contact materials and articles in the kind of household appliances.pdf
|Our Services: Food and Food Contact Materials