On August 11, 2020, France published Order of August 5, 2020 to regulate food contact rubber materials and articles, as well as pacifiers for young children ('new Order'). the main contents are as follows.
Effective date
This regulation takes effect on July 1, 2021, replacing and repealing the Order of November 9, 1994 relating to rubber materials and articles in contact with foodstuffs, food products and drinks.
Transition period
Before the new regulations come into force, food contact rubber materials and products that are placed on the market before July 1, 2021 and meet the requirements of the original regulations can continue to be sold until the inventory is exhausted.
Main revised content



Clarified that rubber includes vulcanized thermoplastic elastomers but not silicone elastomers, and clarified the definitions of terms such as synthetic polymers and additives;

Revised the list of authorized substances for rubber materials and products used in food contact and rubber pacifiers for infants and young children;

Revised the applicable objects of the overall migration limit;

Revised the physical and chemical indexes of rubber materials and products;

Revised the migration test conditions;

Added the compliance judgment principle of rubber materials and products;

Added the requirements for the declaration of conformity.

The main content of the new regulations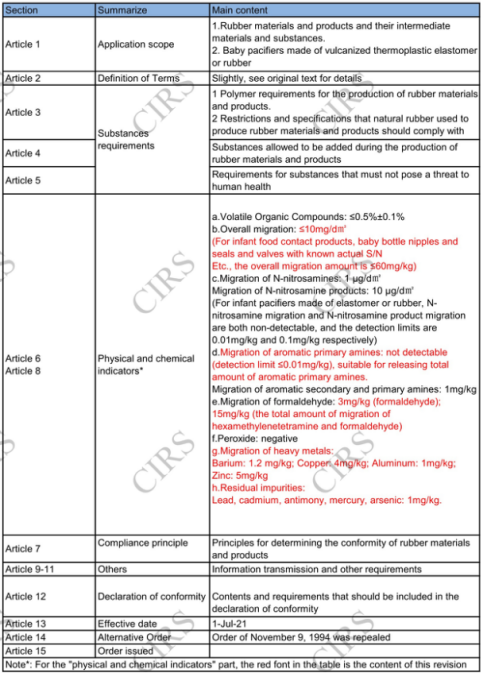 [Original link]
Order of August 5, 2020 ``The Order on Rubber Materials and Products Used in Food Contact, and Pacifiers for Infants and Young Children''
About us



C&K Testing is a leading testing company to render you specialised solutions concerning green and sustainable development of products. Established in 2008, we've helped thousands of customers to minimise the risks of their products to human health and the environment through our testing services.
Combining widely global recognition and extensive local experience, staffed by knowledgeable experts, C&K Testing will help you to gain a competitive advantage in the global marketplace by ensuring product safety and quality, removing trade barriers and optimising manufacturing procedures.
If you have any needs or questions, please contact us at test@cirs-group.com