9 August 2019, The Philippines' Food and Drug Administration (FDA) released a notice to ban the use of bisphenol A (BPA) in infant feeding bottles and sippy cups and production, import and sale of products containing BPA are prohibited. The notice says the ban will take effect 30 days after its publication in two newspapers of general circulation and its submission to the Office of the National Administrative Register at the University of the Philippines' Law Center.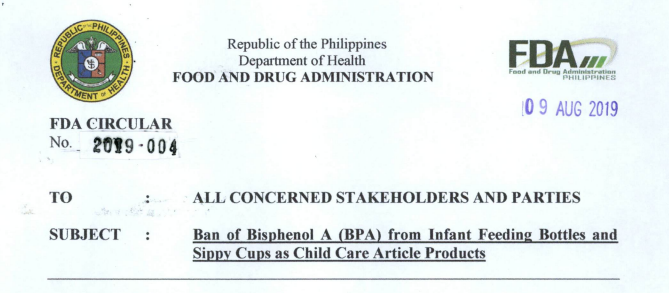 BPA is a colourless organic synthetic compound that is used as a starting material in plastics. It is on the EU candidate list of substances for authorisation under REACH and is classified as possibly toxic to reproduction. It has been banned from infant feeding bottles in the EU since 1 June 2011.
The Canadian government has given the company a six-month grace period to recall all the products from the market. Manufacturers, traders, importers, distributors and wholesalers are required to ensure that banned products are removed from the market within the grace period.
Last year, South Korea said it would ban BPA, dibutyl phthalate (DBP) and benzyl phthalate (BBP) from the FCM of infants and young children. The ban will apply to baby feeding products, including tableware, containers and packaging, and will take effect on January 1, 2020.
|Further Information:
Philippines Notice to Ban BPA in Baby Bottles
|Our Service:
Toys & Children's Products Testing