Recently, in the No. 3 Announcement of 2021 jointly issued by the National Health Commission and the State Administration for Market Regulation, GB 31604.52-2021 "National Food Safety Standard Food Contact Materials and Products Determination of migration of primary aromatic amines" was officially released.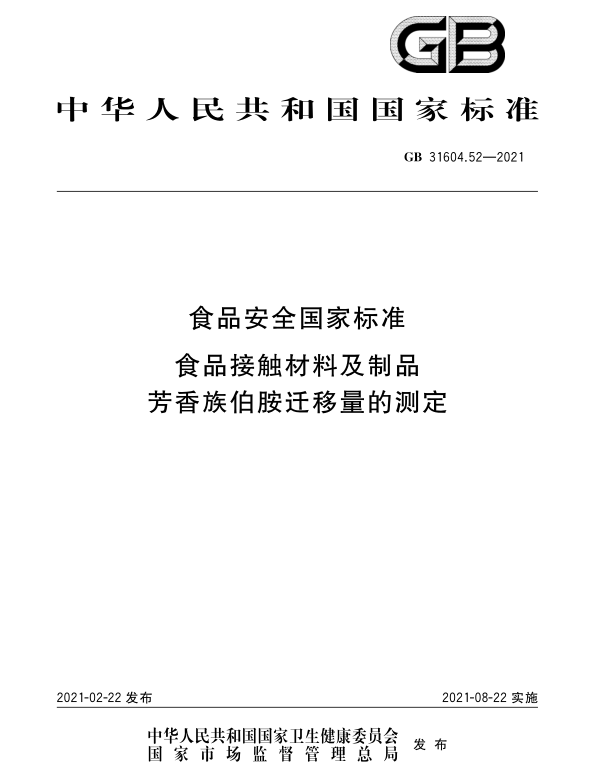 This standard uses liquid chromatography-tandem mass spectrometry to detect the migration of 29 primary aromatic amines in food contact materials, and is suitable for food simulations such as 4% acetic acid, 10% ethanol, 20% ethanol, 50% ethanol, vegetable oil, etc. and chemical substitute solvents for 95% ethanol and isooctane.
The method detection limit is as low as 0.001mg/kg and the limit of quantification is 0.003mg/kg, which can be matched with the relevant food contact material product standards that are in the drafting process, and also covers all specific types of prohibited primary aromatic amines in the latest revision of the European Union amendment Regulation (EU) 2020/1245.
Aromatic primary amines have diverse sources in food contact materials, with a clear hazard mechanism and a high degree of attention. They are also common and typical unintentional additives. They have been banned by the European Union, South Korea and other countries and regions.
The formulation of this standard will provide scientific and reliable technical means to carry out the detection, risk monitoring, risk assessment and compliance management of primary aromatic amines in food contact materials in China.
The standard will come into effect on August 22, 2021.
To know more details about Chinese food contact materials regulations, please contact us at test@cirs-group.com.