On September, 7th, 2021, South Korea's MFDS issued Notice No. 2021-76 with the latest food contact requirements under the nation's Standards and Specifications for Utensils, Containers and Packaging.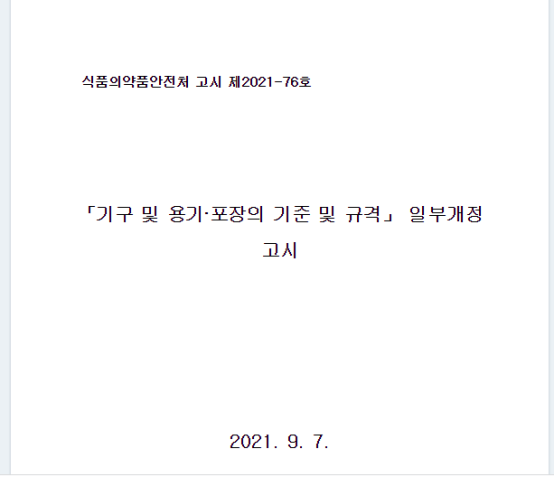 Overview of the revised content
Regarding recycled plastics: The general manufacturing standards and the recycling standards for recycled plastics in the "Standards and Specifications for Food Utensils, Containers and Packaging" have been revised.
Regarding active and smart materials: new manufacturing standards for active and smart materials have been added.
Regarding synthetic resin: Synthetic resin materials are classified and sorted according to their structural characteristics, and specific materials can be indexed in the order of the classification table. In addition, polyketone materials have been added to synthetic resin materials.
Regarding the migration test: the concept of fatty food is clarified.
Regarding test methods: The test methods have been revised for colorants, sulfur dioxide, etc.
There are two important effective dates:
September 7, 2021, for Notice 2021-76
January 1, 2022, for recognized raw materials (flakes, etc.) used during the recycling process if these are recycled synthetic resins made of physically regenerated PET materials and meet the criteria for recycled synthetic resins in utensils, containers and packaging.
For more detailed information, please contact us at test@cirs-group.com.