10 April 2019, the European Committee for Standardization published a new standard EN 71-3:2019 for measuring the migration of certain chemical elements in different types of toy materials.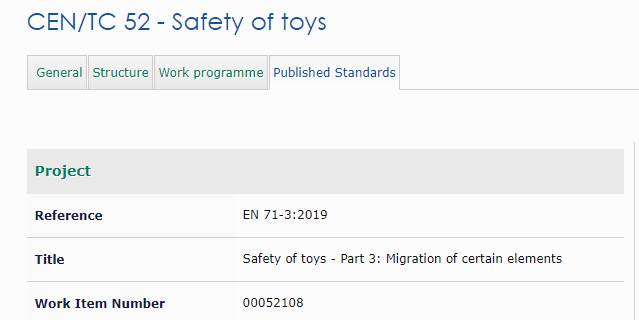 The new standard sets out a method for determining the migration level of chromium VI from scraped-off toy materials such as paint. It shall come into force on 31 October 2019, and the current standard EN 71-3-213 + A3:2018 will expire at the same time. As early as 16 May 2018, the Official Journal of the European Union issued directive (EU) 2018/725, amending the limit from 0.2mg/kg to 0.053mg/kg and will apply from 18 November.
This document specifies requirements and test methods for the migration of aluminium, antimony, arsenic, barium, boron, cadmium, Chromium (III), Chromium (VI), cobalt, copper, lead, manganese, mercury, nickel, selenium, strontium, tin, organic tin and zinc from toy materials and from parts of toys. Packaging materials are not considered to be part of the toy unless they have intended play value.
The standard contains requirements for the migration of certain elements from the following categories of toy materials:

- Category I: Dry, brittle, powder like or pliable materials;

- Category II: Liquid or sticky materials;

- Category III: Scraped-off materials. The requirements of this document do not apply to toys or parts of toys which, due to their accessibility, function, volume or mass, clearly exclude any hazard due to sucking, licking or swallowing or prolonged skin contact when the toy or part of toy is used as intended or in a foreseeable way, bearing in mind the behavior of children. The standard also includes a modified method for testing organic tin compounds which, according to CEN, has an increased extraction yield improving the detection limit and repeatability.
|Further Information:
New Standard EN 71-3:2019 on Substance Migration from Toys
|Our Service: