Imported cosmetics are gaining more popularity on the China market along with the rapid development of the cosmetics sector in recent years. However, Chinese authorities at all levels find many batches of imported cosmetics not comply with relevant standards and some of them are even world-famous, which put both economic operators and Chinese consumers on the alert.
The table below lists some Chinese standards on cosmetics:
| | |
| --- | --- |
| Version 2015 | Safety and Technical Standards for Cosmetics |
| GB 5296.3 | Instruction for Use of Consumer Products—General Labelling for Cosmetics |
| QB/T 1645 | Facial Cleaning Milk and Cream |
| QB/T 2660 | Skin Tonic |
| QB/T 1857 | Skin Care Cream |
| QB/T 1977 | Lipstick |
| QB/T 1976 | Made-up Pressed Powder |
| QB/T 1859 | Body Powder, Anti-prickly Heat Powder |
| QB/T 1858 | Perfume and Cologne |
| QB/T 1858.1 | Florida Water |
| QB/T 1643 | Hair Mousse |
| QB/T 1644 | Hair Spray |
| QB/T 1862 | Hair Oil |
| QB/T 1974 | Hair Shampoo |
Tip: On 23 December 2015,Safety and Technical Standards for Cosmetics(Version 2015) was published upon review of experts from Cosmetics Standard Committee and would take into force on 1 December 2016. The standard, an update for Hygienic Standard for Cosmetics (Version 2007), provides for safety technical requirements for cosmetics, including general requirements, requirements on prohibited/restricted components, requirements on allowable components and methods for test and assessment, applicable to cosmetics that are produced or intended for sale in domestic China. (Except to products intended for sale in foreign countries).
Declaration Flowchart for Imported Cosmetics
Phase I Records-keeping of Declaring Unit (about 1 month since material preparation)

Phase II Testing: common cosmetics: 2 months, cosmetics for special use: 4-6 months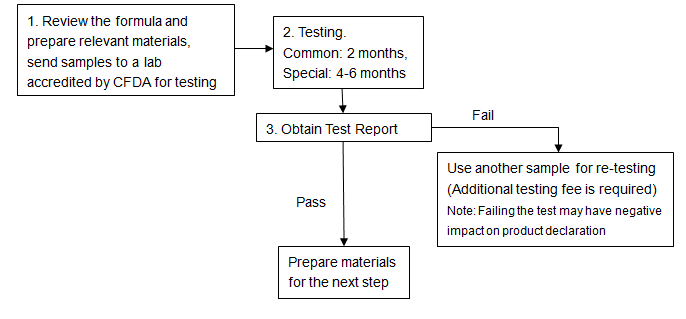 Phase III Prepare materials and submit them to CFDA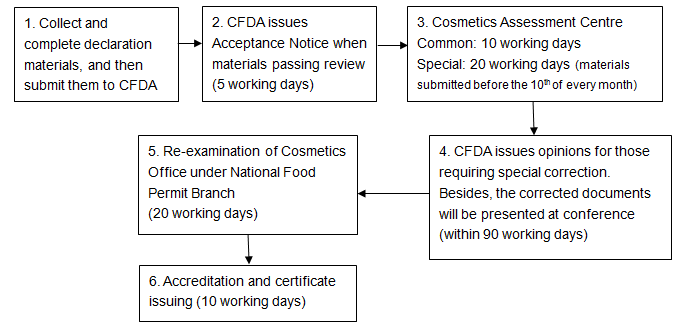 What can we do for you?
Special offers for testing on a regular basis;

Management and integration of suppliers for free;

Sharing of the latest technical news;

Door-to-door training and orientation for suppliers;

Customised solutions.
Besides, we can render you one-stop solutions integrating consulting, testing and certification. Please feel free to contact test@cirs-group.com or leave us a message if any question. Staffed by experienced specialists, C&K Testing can assure you of the quality and safety of your products by our professional testing services as per different standards.

Disclaimer:
C&K Testing accepts no responsibility or liability whatsoever with regard to the information on this website. Reproduction for non-commercial purposes of information and documents from the our website is authorised provided that you acknowledge "C&K Testing" as the source.